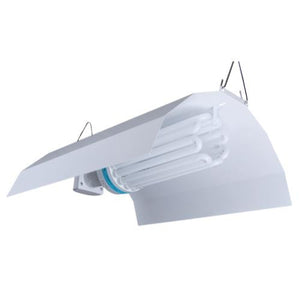 Please note that do to multiple items being damaged during shipping, we no longer ship light fixtures or bulbs. If you purchase a light fixture for shipping, we will cancel and refund your order unless you choose in store pickup.
Bright white powder-coated finish provides excellent reflectivity and durability.
Sturdy steel construction for long life.
Heavy duty socket assembly supports the weight of high wattage CFL lamps with minimal lamp deflection.
Lamp brace incorporated into design for high wattage CFL (300w).
Includes Mogul base socket and 8' power cord.
'Integrated mounting bracket with chrome wire hangers.
Bulb sold separately.
3 year manufacturer warranty.