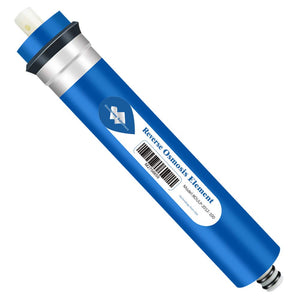 [High Quality RO Membrane]: Our Reverse Osmosis membrane is made of food-grade high capacity material, the advanced membrane technology and automated spiral-wound fabrication ensure RO elements to deliver consistent performance for all customers.
[High Stabilized Salt Rejection]: The Reverse Osmosis membrane is rated at 100 Gallons per Day, 97% Stabilized Salt Rejection. Rejects impurities down to 0.0001 micron, it can efficiently remove up to 99% of over 1,000 contaminants from your water, including Heavy Metals(primarily fluoride,calcium, magnesium, lead,colloids , chromium and nitrates), organic, rubber mass, harmful minerals and other soluble salt from water.
[Universal Filter]: 100 GPD RO membrane is industry standard size 2.0" X 12", fits in standard 1812/2012 residential RO membrane housings (2" Inner Diameter (ID) ) . This reverse osmosis membrane can take place of Dow Filmtec TW30-1812-100, AXEON TF-1812-100, GE TFM-100, Pentair TLC-100, Ispring ,APEC, CSM, Dow Film Tec and other 1812 /2012model membrane.
[100% Safe Filter]: Our Reverse Osmosis membrane with FDA Registered, NSF/ANSI Standard 58 Certified and high quality Polyamide film composite material ensure your drinking water safe.
[Long Life Span]: our ro membrane normally lasts about 24-36 months, depending on your water quality and usage amount. User Friendly Design, Easy installation. It is suitable for most Reverse Osmosis Water Filtration System.