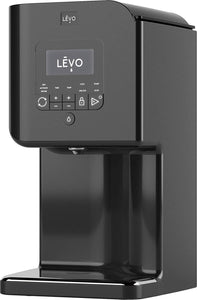 INFUSION, ELEVATED: LĒVO II is the premium kitchen appliance for easily preparing infused oil, butter, honey and glycerin using your herb of choice, without the time or mess of traditional methods.

DRY, ACTIVATE, INFUSE, DISPENSE: Streamlining the infusion process, LĒVO unlocks the full potency of your botanical ingredients before you infuse with its new Dry and Activate cycles. When infusion is complete, the ceramic-coated, slanted reservoir efficiently dispenses every last drop!

EASY TO USE. EASY TO CLEAN: Set it and forget it. From salves and soap to smoothie bowls and salad dressings, using LĒVO II is as easy as making coffee or tea. When you're done, all components are easily removed and top-rack dishwasher safe!

POTENT & LONG-LASTING: LĒVO II's new Power Pod has double the capacity for more potent herbal infusions, and the durable silicone stirrer doesn't aerate your final product, allowing for a longer shelf life. No solvents, additives, or emulsifiers required.

WIRELESS CONTROL: Pair your LĒVO II with the companion LĒVO app to program your infusions wirelessly, access a handy Herb & Oil Calculator, discover & share recipes, and save your favorite settings, all from the palm of your hand!