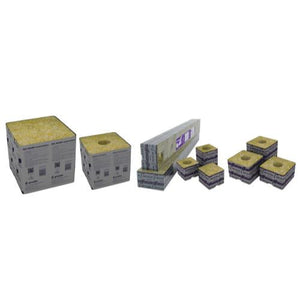 Gro-Blocks are similar to a plant container. Need a 3" pot? Then choose a 3" Gro-Block. Small plants can be fully grown in our larger Gro-Blocks. Holes are perfect size for any 1.5" starter plug. Come in packs labeled with instructions. Big Mama is Grodan's largest block ever produced! Big enough to grow a large plant for its entire life. More than twice the amount of wool as our Hugo Block.
Features:
Hugo Is The Largest Of The Growing Blocks.
It Provides Enough Growing Volume To Support A Larger Plant, So It Does Not Need To Be Placed On Top Of A Slab.
6 Blocks Per Strip

Large 4" X 4" X 4" Blocks.

Weighs 1 lbs.