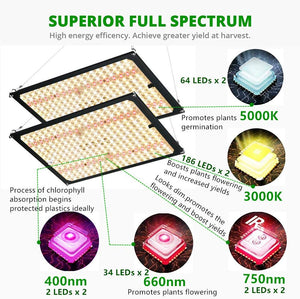 UPGRADE CONNECTOR SWITCH HEATSINK & Noise Free-Fanless : Full spectrum led grow light Connector,Switch,Heatsink upgrades,Add glue to make it stronger,No Fan Noise Free design will make your growing life easy and quiet,large areas of solid aluminium quickly heat dispersing reducing light lost to aisles and walls,increase the light intensity,allowing your plants receive more energy and without burning your plants for maximum headroom.
Sunlike Full Spectrum & Red Light Switch: Grow lights for indoor plants full spectrum uses Samsung new LEDS Chips which proved to be MORE BRIGHT as other chip,and the same PPF,high quality.Excellent Full Spectrum(3000K,5000K,660nm,IR 750nm,400nm)totally 576pcs LEDs.Grow light add a red light turn on/off,Red light is turned off when growing and turned on when flowering to promote flowering and growth.
Low Energy Consumption Led Grow Light: High Energy Efficiency with 2.7 umol/J,Consuming only 200W.adjust it with a Phillips screwdriver (100W-240W).It saves up to 50% energy than other led grow lights. Perfect for 4x4FT footprint. Over 90% light energy can be absorbed by plants,reflective area,Led grow lights for indoor plants has Customized Dimming Design.
Footprint more than 4FT Increase Yield: Veg footprint is 4x4FT,Flowering Footprint is 4x3.5FT.The line between the boards is 70cm,enough to illuminate more plants.Footprint can be greater than 4FT. Samsung new LED technology provide highest PAR/LUMEN output(1649umol@12"),make you get 50% higher yield compare OLD blurple led lights.
Reliable Warranty& SELLER RESOLVE: Plug and play light,ENFUN is so confident in the performance of our updated light.We provide 3-YEAR WARRANTY Professional U.S. local after-sales service.For any questions, feel free to E-MAIL us and we will help you resolve it,Value for money guaranteed. buy ENFUN products led full spectrum grow light, and worry-free today.