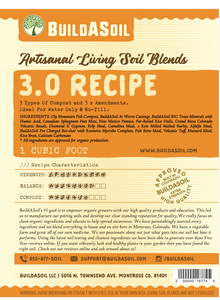 BuildASoil Potting Soil Version 3.0
Sale price

$ 30.25

Regular price
Adding product to your cart
BuildASoil's Heaviest amended soil recipe was designed with the Water Only grower in mind. Based on Logan Labs soil testing we designed a soil with more everything. This 3.0 Recipe is our richest soil and is still be balanced enough for most all plants. The goal was a compost based soil without any dirty ingredients that would last longer and push harder. If you are used to Super Soil this will perform as you would expect. This potting soil mix has been the favorite for customers that want everything already in the soil when they open the bag. Compared to our other potting soil recipes this is our most loaded up potting mix. Excellent for flowering and full term growth.
NOTICE: Full truckload freight quotes are only good for 1 truckload. If purchasing more than 1 Truckload please reach out via support@buildasoil.com or call 855-877-7645 Thanks
YOUR SOIL IS ALIVE!! LIVING SOIL DISCLAIMER: We DO NOT sterilize any of our compost or Potting soils during the manufacturing process and as a result it will contain a plethora of life which is the ultimate goal! Your plants will love it.
Potting Soil Ingredients:
NOTICE: These ingredients are the most up to date when compared to our label. We make occasional small changes to Compost based on soil testing for the best quality possible.
Malibu Biodynamic Compost, BuildASoil Worm Castings, BuildASoil BIG 6 Trace Minerals with Humic Acid, Organic Canadian Sphagnum Peat Moss, Organic New Mexico Pumice, Organic Par-Boiled Rice Hulls, Grand Mesa Colorado Volcanic Basalt, Organic Diamond K Gypsum, High P Organic Rice Bran, Montana Grow, Organic Thorvin Icelandic Kelp Meal, Organic Mustard Seed Meal, Organic 2 Row Milled Malted Barley, Organic Alfalfa Meal, BuildASoil Pre Charged Bio-char with Rootwise Mycrobe Complete
Typical Heavy Metal Analysis: This is not a Guarantee. We believe in full transparency and you should also decide what these results mean based on your business and state that you operate in. We have large commercial customers passing in all states with great success but there are also awful stories of people failing for many reasons that don't always seem logical. Call us with any questions!
Use left/right arrows to navigate the slideshow or swipe left/right if using a mobile device