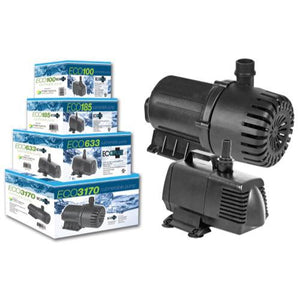 These submersible water pumps are great for everything from fountains to hydroponic systems. The pumps have an inside threaded fittings and the flow is non-adjustable. Powerful oil-free, rare earth rotor magnet. Ceramic shaft and bearing insures reliability. Trouble free one moving part. Strainer protects impeller from damage. Comes with a 120 volt cord. Include inlet and outlet fittings. One year manufacturer warranty.
Features:
•

6 watts power

396 Gallons per hour

Comes with 69 inch 120 volt cord

Inlet is .75" NPT and the outlet is .75" NPT

Included fittings: three-.75" Barbed x .75" Threaded, two-.5" Barbed x .75" Threaded and Nozzle x .75" Threaded.




Weight 2.05 lbs.